Testimonial
Your Review and Experience Will Help Others
If you enjoyed your experience with our practice, we would love to hear from you. Please leave us a review at: Google, yelp, and or Facebook.
Read How Our Other Patients Think and Feel About Us:

9 months ago
I just had my first few dental visits in a while here, and everything went great! All of the staff were very nice, the overall atmosphere was pleasant and comfortable, and there was no rush or any kind of pressure at all; I had plenty of time to ask questions, and again, the staff were just so nice. I really appreciated how Dr. Khajavi would really go into detail whenever I asked about something, however basic it was--that had probably been my favorite part of the experience, because I could see how much she really cared about treating and properly educating her patients. I feel very lucky to have discovered this clinic, and I am definitely going to be recommending it for friends and family.

a year ago
Dr. Khajavi and the Spectrum Dental team are wonderful! They went above and beyond to make my experience a comfortable one and did an exceptional job as pictured. 10/10 would recommend. Sharing before & after pictures here. Thank you!!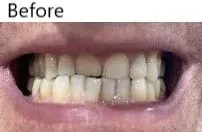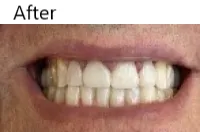 2 years ago
Great dentist office. Everyone is kind and helpful here. They were detailed about the procedures I was going to have, kept asking me if I had any questions, and helped me feel more comfortable about the work I needed to get done. Dr. Khajavi is thorough, knowledgeable, and honest, she also helped me understand some of my past dental work and how I can better manage my dental health in the future. The office is very clean and efficient. I like how they make sure you're comfortable throughout the visit and get you to communicate any discomfort throughout their procedures.
Patient Review | Spectrum Dental Arts | Dentist in San Bernardino County, CA
Please read our patients' reviews. We love to hear from all of our patients. If you have not reviewed us, yet please take a moment to write about your experience with us.
© 2023 Spectrum Dental Arts. | 1049 W Philadelphia St. Ontario, CA 91762 | (909) 391 - 2324 | Page updated: 2/7/2023 | Page Info: Dentist Ontario, CA